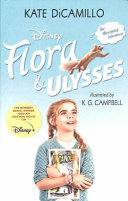 Flora & Ulysses: FTI
by Kate DiCamillo; K. G. Campbell (Illustrator)
$17.99
NZD
Category: Chapter Books
It begins, as the best superhero stories do, with a tragic accident that has unexpected consequences. The squirrel never saw it coming – the vacuum cleaner, that is. As for self-described cynic Flora Belle Buckman, she has read every issue of the comic book Terrible Things Can Happen to You! so she is j ust the right person to step in and save him. What neither can predict is that Ulysses (the squirrel) has been born anew, with powers of strength, flight and misspelled poetry. And Flora will be changed too as she discovers the possibility of hope and the promise of a capacious heart. From #1 New York Times bestselling author Kate DiCamillo comes a laugh-out-loud story filled with eccentric, endearing characters and featuring an exciting new format – a novel interspersed with comic-style graphic sequences, plus full-page illustrations, all rendered in black-and-white by a talented new artist. ...Show more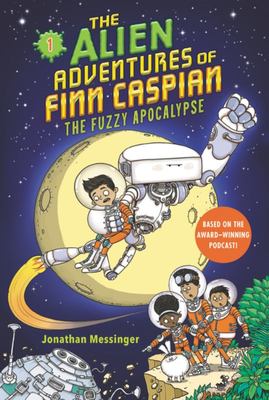 $14.99
NZD
Category: Chapter Books | Series: Alien Adventures of Finn Caspian Ser.
Explorer Troop 301 tries to save an exploding planet from a fluffy bunny and a devious alien in the first book of this funny chapter book series based on the award-winning kids' podcast Eight-year-old Finn lives is the first kid born in space and he spends his days looking for a new planet to call him w ith his three best friends and his robot, Foggy.He's used to wild, galaxy hopping adventures. But when Explorer Troop 301 gets stuck on a planet that's about to explode, Finn and his friends will have to face giant aliens, a leader with mind control powers, and one evil, fluffy bunny rabbit in order to save the planet . . . and themselves. Blast off into a brand-new adventure inspired by the popular award-winning kids' podcast Like the podcast, the books are sort of like Scooby-Doo meets Buffy the Vampire Slayer in space. The story centers on Finn Caspian, an 8-year-old boy aboard The Famous Marlowe 280 Interplanetary Exploratory Space Station. He and his friends Abigail, Elias, and Vale are Explorers Troop 301, taking off from the Marlowe to explore uncharted planets, help the occasional alien, and solve a mystery that threatens to destroy the Marlowe.The books in this series are for kids ages 7 to 12 looking for a funny story to tear through. They contain no violence, a little bit of suspense, and some aliens who are real chuckleheads... ...Show more
$18.99
NZD
Category: Chapter Books | Series: Hilda
Based on the hit Netflix series, join Hilda and Twig for more hilarious adventures in the illustrated fiction series. Join your favourite blue-haired heroine Hilda to find her cooking up adventure with the Sparrow Scouts and battling mechanical bell-ringers. But some naughty mischief-makers are determi ned to steal Hilda's money, soup, and maybe even her mum. When a hop to the past gets time all mixed and muddled, can Hilda help the city of Trolberg escape the greedy Time Worm? There is no shortage of unexpected twists, turns and new friends in this latest instalment of the Hilda fiction series. ...Show more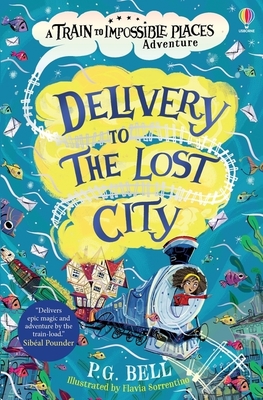 $16.99
NZD
Category: Chapter Books | Series: The\Train to Impossible Places Ser.
All aboard for the rip-roaring final book in the bestselling Train to Impossible Places Adventures, with magic at every stop.From the award-winning P.G. Bell, with dazzling illustrations from Flavia Sorrentino, join Suzy on this magical adventure, where the journey will never, ever take you where you ex pect it to. When the Impossible Postal Express magically arrives to collect Suzy, she sets off on her most difficult delivery yet. A mysterious talking book is stealing words and causing chaos across the whole of the Impossible Places!The book must be returned to a city that's been lost for thousands of years. But without a map to get there, Suzy and Wilmot's journey plunges them into grave danger. And with time running out, it might not just be the knowledge in the Impossible Places that is lost for ever - Suzy and Wilmot could be too... ...Show more
$11.99
NZD
Category: Chapter Books | Series: Diary of a Minecraft Zombie Ser.
Its the Scare School pet show, and every mob whos any mob is entering. Every mob except Zombie. He doesnt have a pet. But then Zombie finds a stray Pig in the park, and convinces his parents to let him keep it. So the training beginshe has one week to turn his Pig into champion material. Will Zombie and his Pig win the pet show, or will it be utter pandemonium? ...Show more
$14.99
NZD
Category: Chapter Books | Series: Babysitters Netflix Ser.
Mrs. Pike wants Dawn to help prepare Margo and Claire for the Little Miss Stoneybrook contest. So what if Margos only talent is peeling a banana with her feet? Dawns going to help her charges win that contest! The only trouble is... Kristy, Mary Anne, and Claudia are helping Karen, Myriah, and Charlotte enter the contest too. And nobodys sure where the competition is fiercer: at the pageantor in the Baby-Sitters Club! ...Show more
Paws
by Kate Foster
$18.99
NZD
Category: Chapter Books
At home, Alex's best friend is Kevin the cockapoo, although what he wants most of all is a friend at school. But that is harder than he ever expected. A touching story about learning that friendship isn't one size fits all and is often found where you least expect it. Everything is changing for 11-year- old Alex and, as an autistic person, change can be terrifying. With the first day of high school only a couple of months away, Alex is sure that having a friend by his side will help. So, he's devised a plan - impress the kids at school by winning a trophy at the PAWS Dog Show with his trusty sidekick, Kevin. This should be a walk in the park . . . right?   ...Show more
$19.99
NZD
Category: Chapter Books | Series: Plum and Woo
A dazzling, whip-smart mystery series about two very different girls and a whole heap of danger …   Hannah Plum loves fashion, fun, and junk food. Patti Woo is obsessed with detective novels, lives in leggings, and is definitely not Hannah's friend. But the two girls are stuck at the beachside Heartbre ak Hotel together while Hannah's dad and Patti's mum are out birdwatching and – yuck! – falling in love.    When a hotel guest's beautiful pink wedding dress is stolen, Hannah is determined to get to the bottom of it. With a reluctant Patti in tow, the two girls are launched into an ever-deepening mystery. Why is a wedding planner sending secret signals to an unknown guest? Who's leaving creepy wet diving relics in the hotel rooms? And could some long-lost, famous pink pearls be at the heart of it all?   If Plum and Woo want to survive the summer, they'll need to solve this mystery in style. But first, they'll have to survive each other …   In every Plum & Woo instalment, Hannah and Patti will investigate a surprising and sinister fashion mystery while also navigating their newly blending family. Brimming with fun, danger and highly relatable tween angst, this series is perfect for 9+!      ...Show more
$8.99
NZD
Category: Chapter Books | Series: Billie B Brown
Billie is so excited for the school bazaar! There's only one problem: her friends want to go on the Super-Dooper Snake ride, and Billie isn't sure she's brave enough … Celebrating 10 Years of Billie B Brown in 2020!   
$8.99
NZD
Category: Chapter Books | Series: Billie B Brown
Billie has found a baby bird. She really wants to look after it! But is Billie the right person for the job? Celebrating 10 Years of Billie B Brown in 2020!   
$16.99
NZD
Category: Chapter Books | Series: Warriors: the Broken Code
The #1 nationally bestselling Warriors series continues! Discover more epic adventures in the third book in the action-packed Broken Code story arc. After losing one of his nine lives, ThunderClan's leader, Bramblestar, became intent on rooting out and exiling cats he claims are traitors to the warrior code. But some cats know the truth: this isn't the real Bramblestar, and their leader's true spirit is desperate to return to its rightful place before the rising tension among the five Clans erupts into outright war. Packed with action and intrigue, this sixth Warriors series is the perfect introduction for readers new to the Warriors world, while dedicated fans will be thrilled to discover the new adventures that unfold after the events of A Vision of Shadows. ...Show more