$16.99
NZD
Category: Graphic Novels | Series: Baby-Sitters Little Sister Graphix
Karen is having a terrible day. Her favorite jeans are missing, there's no prize in the Crunch-O cereal box, and Boo-Boo the cat won't play with her. She even gets punished and sent to her room! Karen tries everything to make her day better, but nothing is going right and her bad luck just won't go away . Will this be the worst day ever? ...Show more
$16.99
NZD
Category: Graphic Novels | Series: The Baby-Sitters Club Graphic
A brand-new Baby-sitters Club graphic novel adapted by newcomer Gabriela Epstein! Claudia has always been the most creative kid in her class... until Ashley Wyeth comes along. Ashley's really different: She wears hippie clothes and has multiple earrings, and she's the most fantastic artist Claudia has e ver met. Ashley says Claudia is a great artist, too, but thinks she's wasting her artistic talent with The Baby-sitters Club. When Claudia starts spending more time with Ashley and missing BSC meetings, it becomes clear that Claudia has to make a decision -- one of them has to go! ...Show more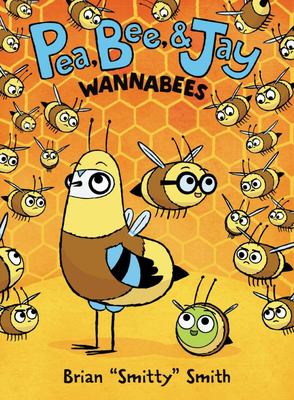 $16.99
NZD
Category: Graphic Novels | Series: Pea, Bee, and Jay Ser.
Get ready to roll with Pea, Bee, & Jay in this brand-new early reader graphic novel series by Brian "Smitty" Smith, perfect for fans of Narwhal & Jelly, emerging readers, and comic lovers alike Who knew being queen could sting so much? All Bee really wants to do is play with her two best friend s, Pea and Jay. But when she's replaced by Lenny--an ambitious bee hungry for power--as queen of her hive, the friends set out to prove Lenny isn't exactly who he seems to be. Can Bee, with the help of her friends, regain her crown and throne, or has the Reign of Lenny officially begun? ...Show more
$23.00
NZD
Category: Graphic Novels
Plunge into another battle between plants and zombies as Dr. Zomboss turns the entirety of Neighborville into a giant, fully-functional pinball machine! With bumpers, flippers, and pegs meticulously scattered across town by the zombie pinball wizard himself, Nate, Patrice, and their plant posse must fin d a way to revert Neighborville to its normal state and halt this uniquely horrifying zombie invasion. With every ball and bumper set against them, will they hit a run of zombie knock-out skill shots - or will the battle go full tilt zombies?! ...Show more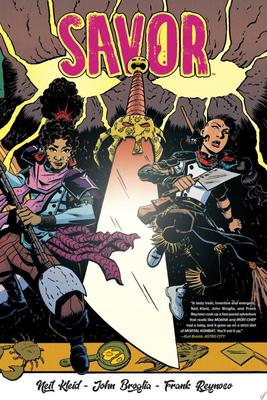 Savor
by Kleid, Neil
$30.00
NZD
Category: Graphic Novels
Warrior chef Savor Batonnet has returned home, to the island of Earth's Oven, after years away. When she learns that a crew of demonic pirate cooks has captured both the island and her family, Savor has to take on her very first quest as a newly minted hero! But are being called a "hero" and a handful o f skills all the ingredients she needs to face five deadly restaurants, forge the world's most powerful knife, save both her parents and the woman she loves? Creators Neil Kleid (Brownsville, Kings and Canvas, Powers- The Secret History of Deena Pilgrim), John Broglia (God Complex, Zombie-Sama) and Frank Reynoso (Kings and Canvas, The Sweetness) serve up a bite-sized story about finding your way, food fighting, family, fun and adventure! Fans of video games and cooking competitions will enjoy this all ages graphic novel. ...Show more
$32.99
NZD
Category: Graphic Novels | Series: Rivers of London Ser.
Detective Inspector Peter Grant is back in an all-new comic miniseries from author Ben Aaronovitch Trouble never lies far from the race track. When a flash car belonging to a young boy racer from England washes up in the Netherlands with a bagload of unusual cargo, it's evident there is more than meets the eye happening at street races held in an Essex car park. Enter Detective Inspector Peter Grant. Fresh from suspension, he takes to the track in his orange 'asbo' Ford Focus to try and infiltrate the big leagues. But Peter soon finds himself sucked back into an Otherworld - a real-life fairyland ...Show more
$37.00
NZD
Category: Graphic Novels
#1 New York Times bestselling author Maggie Stiefvater (the Raven Cycle series) and artist Morgan Beem unearth the primal power of memory and how it twists the bond between two brothers.   Twins Alec and Walker Holland have a reputation around town. One is quiet and the other is the life of any party, but the two are inseparable. For their last summer before college, Alec and Walker leave the city to live with their rural cousins, where they find that the swamp holds far darker depths than they could have imagined. While Walker carves their names into the new social scene, Alec recedes into a summer-school laboratory, slowly losing himself to a deep, dark experiment. This season, both brothers must confront truths, ancient and familial, and as their lives diverge, tensions increase and dormant memories claw to the surface. Swamp Thing: Twin Branches is a story of shadows, both literal and imagined--and those that take form and haunt us. ...Show more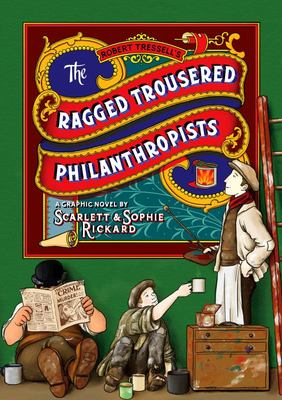 $35.00
NZD
Category: Graphic Novels
Robert Tressell's groundbreaking socialist novel The Ragged Trousered Philanthropists tells the story of a group of working men in the fictional town of Mugsborough, and socialist journeyman-prophet Frank Owen who attempts to convince his fellow workers that capitalism is the real source of the poverty all around them. Owen's spirited attacks on the greed and dishonesty of the capitalist system, and support for a socialist society in which work is performed to satisfy the needs of all, rather than to generate profit for a few, eventually rouses his fellow men from their political passivity. Described by George Orwell as a piece of social history and a book that everyone should read, The Ragged Trousered Philanthropists is often cited as 'one of the most authentic novels of English working class life ever written'. In this faithful graphic adaptation, creators Scarlett and Sophie Rickard craft a compelling fiction that paints a comprehensive picture of social, political, economic and cultural life in early 20th Century Britain that is still acutely relevant today. ...Show more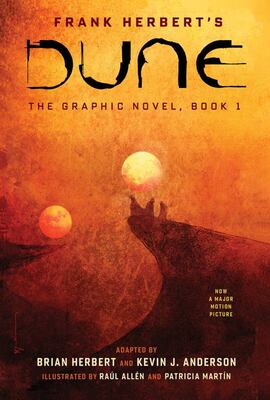 $39.99
NZD
Category: Graphic Novels | Series: Dune: the Graphic Novel
The definitive graphic novel adaptation of Dune, the groundbreaking science-fiction classic by Frank Herbert. Dune, Frank Herbert's epic science-fiction masterpiece set in the far future amidst a sprawling feudal interstellar society, tells the story of Paul Atreides as he and his family accept control of the desert planet Arrakis. A stunning blend of adventure and mysticism, environmentalism, and politics, Dune is a powerful, fanstastical tale that takes an unprecedented look into our universe, and is transformed by the graphic novel format. Brian Herbert and Kevin J. Anderson's adaptation retains the integrity of the original novel, and Raul Allen and Patricia Martin's magnificent illustrations, along with cover art by Bill Sienkiewicz, bring the book to life for a new generation of readers. Full-colour illustrations throughout. ...Show more
$27.99
NZD
Category: Graphic Novels | Series: Introducing...
Join the creators of Queer: A Graphic History('Could totally change the way you think about sex and gender' VICE) on an illustrated journey of gender exploration.    Is masculinity 'toxic'? Why are public toilets such a political issue? How has feminism changed the available gender roles - and for w hom? Why might we all benefit from challenging binary thinking about sex/gender?   In this unique illustrated guide, Meg-John Barker and Jules Scheele travel through our shifting understandings of gender across time and space - from ideas about masculinity and femininity, to non-binary and trans genders, to intersecting experiences of gender, race, sexuality, class, disability and more.    Tackling current debates and tensions, which can divide communities and even cost lives, Barker and Scheele look to the past and the future to explore how we might all approach gender in more caring and celebratory ways.       ...Show more
$26.00
NZD
Category: Graphic Novels | Series: Witches of Brooklyn
There's a new witch in town Life in Brooklyn takes a strange turn when Effie discovers MAGIC runs in the family. A middle-grade graphic novel adventure filled with magical hjinks for fans of Phoebe and Her Unicorn and Making Friends. Effie lost her mom. Lost her home. And now she has to live with two strange aunts who she's never met before. Life in Brooklyn takes a strange twist for Effie as she learns more about her family and herself. With new friends who will do whatever they can to be there for her, a cursed pop-star, and her new magically-inclined family -- Effie's life is about to get interesting. ...Show more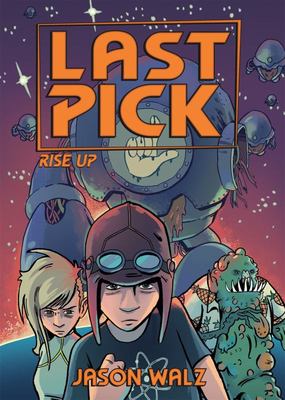 $34.99
NZD
Category: Graphic Novels | Series: Last Pick Ser.
Earth's last hope are also the last picked, in this thrilling conclusion of Jason Walz's dystopian graphic trilogy, Last Pick: Rise Up.Wyatt is now the reluctant leader of the last picked--the disabled, the elderly, and those deemed too young to be useful for hard labor by their alien captors. But how c an he and his ragtag allies take down an entire alien federation?   Meanwhile, Wyatt's twin sister Sam and her girlfriend Mia are creating chaos all over the galaxy in an attempt to rescue Sam's parents. But even if the family is reunited, can they stay alive long enough to see the end of the alien regime? ...Show more