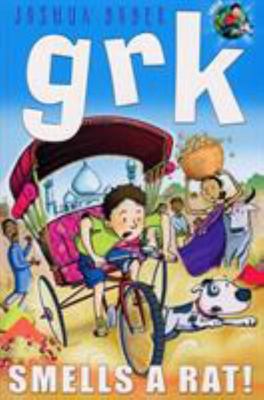 $16.99
NZD
Category: Series | Series: Grk
India is the country of curry, chutney, tigers, the Taj Mahal...and the blue rat gang. In Delhi, hundreds of children have been enslaved. Will no one help them? Does no one care? One person does. And one dog too. On trains and rickshaws, travelling from slums to palaces, Tim and Grk plunge into the hear t of India for the most exciting adventure of their lives. ...Show more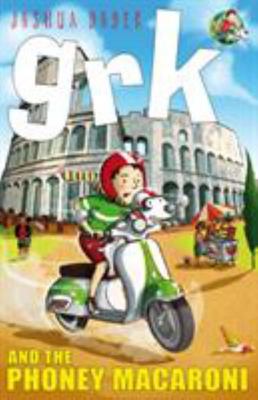 $16.99
NZD
Category: Series | Series: Grk
Dognapped! Grk is walking happily through the park, sniffing trees and chasing squirrels, when he's suddenly snatched by two men in black suits. Where are they taking him? And how can Tim get him back? Tim and Grk's eighth amazing adventure takes them to the home of pizza, pasta and the leaning tower of Pisa. There they meet the Duke of Macaroni, a man with a terrible secret which he will do anything to hide. ...Show more
$17.99
NZD
Category: Series | Series: Awesome Friendly Kid
Scare yourself silly with Rowley Jefferson's Awesome Friendly Spooky Stories by Jeff Kinney, the #1 international bestselling author of Diary of a Wimpy Kid! Grab a flashlight, crawl under the covers, and dive into the twisted, unexpectedly hilarious world of Rowley Jefferson's imagination. You'll meet zombies, vampires, ghosts, and much more in these comically terrifying tales. Rowley's spooky stories might leave you laughing, but beware-you could end up sleeping with the lights on! And don't miss Rowley Jefferson's first two awesome friendly books, the instant #1 bestsellers Diary of an Awesome Friendly Kid- Rowley Jefferson's Journal and Rowley Jefferson's Awesome Friendly Adventure! ...Show more
$18.99
NZD
Category: Series | Series: Dog Man
Dog Man and Petey face their biggest challenges yet in the tenth Dog Man book from worldwide bestselling author and illustrator Dav Pilkey.Dog Man is down on his luck, Petey confronts his not so purr-fect past, and Grampa is up to no good. The world is spinning out of control as new villains spill into town. Everything seems dark and full of despair. But hope is not lost. Can the incredible power of love save the day? Dav Pilkey's wildly popular Dog Man series appeals to readers of all ages and explores universally positive themes, including empathy, kindness, persistence, and the importance of doing good. ...Show more
$17.99
NZD
Category: Series | Series: Skulduggery Pleasant
The thirteenth thrilling novel in the internationally bestselling Skulduggery Pleasant series, SEASONS OF WAR will test the Skeleton Detective and Valkyrie like never before... War is coming. To avert catastrophe, Skulduggery and Valkyrie are sent on a secret mission that takes them away from everythi ng they know, to a forsaken land of magic and grim, unrelenting terror. It is here that Valkyrie will have to fight the hardest -- not only against the enemies who want her dead, but also against her own self-destructive impulses. It's only by crawling through darkness that she'll be able to once again stand in the light... ...Show more
$14.99
NZD
Category: Series | Series: Unicorn Academy
When your best friend is a unicorn, magical adventures are guaranteed! Imagine a school where you meet your own unicorn and have amazing adventures together! That's what happens for the girls at Unicorn Academy on beautiful Unicorn Island. Zara loves solving mysteries and having adventures with her dr eamy unicorn, Moonbeam. She can't wait for Moonbeam to discover her magic power so that they can become the perfect partners! Moonbeam is having strange visions, but Zara is sure they're just daydreams. When Zara's attempt to stop a terrible heatwave leads her into trouble, can Moonbeam discover her magic in time to rescue her? With a glittery cover and beautifully illustrated throughout by Lucy Truman, Unicorn Academy is the perfect series for 7+ readers who love magic and adventure.   ...Show more
$17.99
NZD
Category: Series | Series: Rise of the Mythix
Enter the Griffin!The Unicorn, Minotaur and Griffin are united at last. Surely together they will be unstoppable! But the evil Collector is not going to give up without an epic fight, and not all the beasts of legend are on the side of good...Will our heroes finally fulfill their destiny? 
$19.99
NZD
Category: Series | Series: Friday Barnes
Friday Barnes is back with a new mystery to be solved. It's two years later . . . Friday steps out of prison, a shell of her former self. She's still wearing the same brown cardigan, but she swears she's never solving mysteries again! Yeah right – who is she kidding? She can't suppress her brilliant d eductive mind and is soon drawn back into the intrigues of Highcrest Academy. Then Uncle Bernie rings, pleading with Friday to fly to Italy and help him protect the Uffizi Galleries from a team of art thieves – and she can't say 'no' to family. Even if it means travelling to the city where Ian, her ex-boyfriend/nemesis is living. Will Friday be able to protect Italy's finest artworks? Will Melanie stay awake long enough to help her? And will Ian still be as gorgeous as a Greek god and twice as annoying? ...Show more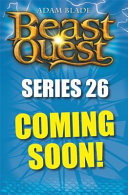 $16.99
NZD
Category: Series | Series: Beast Quest Ser.
Free the Beasts. Live the Adventure. Battle Beasts and fight Evil with Tom and Elenna in the bestselling adventure series for boys and girls aged 7 and up Tom and Elenna are celebrating the safe return of Prince Rotu after their successful Quest to rescue him from the Evil Wizard Zargon ... but Evil ne ver rests, and news soon reaches them that Zargon has disappeared and the tombs of the legendary Four Masters have been ransacked. Now their new Quest takes them to a dark forest where an ancient snake-Beast has been regenerated. There are FOUR thrilling adventures to collect in this series - don't miss out Teknos the Ocean Crawler, Mallix the Silent Stalker, Silexa the Stone Cat and Kyron, Lord of Fire. If you like Beast Quest, check out Adam Blade's other series: Team Hero, Sea Quest and Beast Quest: New Blood ...Show more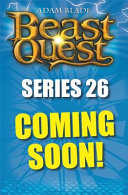 $16.99
NZD
Category: Series | Series: Beast Quest Ser.
Free the Beasts. Live the Adventure. Battle Beasts and fight Evil with Tom and Elenna in the bestselling adventure series for boys and girls aged 7 and up Tom and Elenna are celebrating the safe return of Prince Rotu after their successful Quest to rescue him from the Evil Wizard Zargon ... but Evil ne ver rests, and news soon reaches them that Zargon has disappeared and the tombs of the legendary Four Masters have been ransacked. It's time for a new Quest, and this time they must tackle four ancient Beasts in the places they were originally killed. First on the list is Teknos, an armoured turtle-Beast with a razor-sharp beak There are FOUR thrilling adventures to collect in The Four Masters series - don't miss out Teknos the Ocean Crawler, Mallix the Silent Stalker, Silexa the Stone Cat and Kyron, Lord of Fire. If you like Beast Quest, check out Adam Blade's other series: Team Hero, Sea Quest and Beast Quest: New Blood ...Show more
$23.00
NZD
Category: Series | Series: Miss Peregrine's Peculiar Children
Having defeated the monstrous threat that nearly destroyed the peculiar world, Jacob Portman is back in Florida, where his story began. Joined by Miss Peregrine, Emma and their peculiar friends, life has become carefree. But it's not meant to last. The discovery of Jacob's grandfather's subterranean bun ker leads to clues about his double-life as a peculiar operative. Jacob begins to learn more about the dangerous legacy he's inherited, and the truths that were part of him long before he walked into Miss Peregrine's time loop. Now, the stakes are higher than ever as Jacob and his friends are thrust into the untamed landscape of American peculiardom - a world that none of them understand. New wonders, and dangers, await in this darkly brilliant next chapter for Miss Peregrine's Peculiar Children, illustrated with haunting vintage photographs- in full colour. ...Show more
$19.99
NZD
Category: Series | Series: Keeper of the Lost Cities
Book 8.5 in the New York Times bestselling Keeper of the Lost Cities series delivers what fans have been begging for! Told in an exciting new way, the saga continues with plenty of huge reveals and shocking new twists - plus a complete series guide with beautiful colour and black-and-white illustrations and other awesome bonuses, never seen before in the UK! In this extra special installment of the Keeper of the Lost Cities series, the story picks up right from Legacy's particularly devastating cliffhanger. But chapters alternate between Sophie and Keefe's perspectives to give readers deeper insights into both beloved characters. New powers will be discovered. Hard truths from the past will come to light. And all of your favorite characters will find themselves tested in ways they never imagined. And that's not all! Unlocked also includes a comprehensive guide to the world of the Lost Cities, featuring new character and world details that have never been revealed before - plus fun bonuses like Keeper-themed recipes, a detailed map of the Lost Cities, gorgeous full-color illustrations, and so much more! Also in the Keeper of the Lost Cities series: Keeper of the Lost Cities, Exile, Everblaze, Neverseen, Lodestar, Nightfall, Flashback, Legacy. ...Show more